Seahorse Pools & Spas contractor explain what to consider when thinking of a diving board 
The swimming pool contractors from Seahorse Pools & Spas, serving Fort Worth, Texas customers are frequently asked whether they should have a diving board. The answer is as varied as the styles and types of swimming pools that pool owners invest in. There are many reasons to have a diving board including they are fun, they offer a way to practice diving and add to the pool experience.
Along with the advantages you may need to talk with your insurance agent to see if there are any limitations on your insurance coverage for a swimming pool with a diving board. You may find your homeowners insurance policy will not cover this additional liability issue or that you may need to increase your liability coverage. A diving board is considered by some to be an area in which individuals can incur injury whether from hitting a wall or the pool floor or from simply slipping off the board and injuring yourself. Additionally, a swimming pool will need to meet specific depth and length requirements in order to be installed in your pool.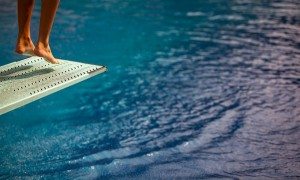 You will need to factor in the price of the diving board as well as any potential increases in your homeowner's insurance. If you're in the midst of getting a pool constructed and want to add a diving board you may incur additional construction costs in order to meet requirements for length and depth — as mentioned above.
If you decide that a diving board is something you want to have for your swimming pool, you will need to assure that it is used responsibly and that no one dives into the pool headfirst or using the diving board when people are under it. Ask us for other pool safety measures you will want to incorporate if you add a diving board.