Seahorse Pools & Spas contractors offer landscaping advice
Is your swimming pool exposed to the sun all day? Does it spend more time in shade than it does in sun? Do you wish you could spend more time in and around the pool, but the sun is a factor? Do you simply not have any place where you can relax poolside? If any of these are the case, you can talk with the swimming pool contractors from Seahorse Pools & Spas to uncover how to landscape around your swimming pool.
Consider though, if the pool is exposed to sun all day, the water will be temperate and that means you won't have to you won't have to rely on a heater to warm the water.  Conversely, though a pool that is in constant sun means you may be getting too much sun and that you might have to leave the pool to seek out shade.  You don't want to run from the cool depths of the pool into the house to escape the sun.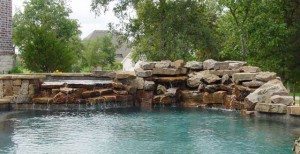 How can you shade the pool area without completely putting your pool into shade?
There are several ways. You can plant trees that offer escape from the hottest part of the day under its leafy branches and boughs but remember, with trees come leaves, bugs and other debris that will fall into the pool and that leads to extra cleaning and maintenance and could also clog pool drains.
Some other options are:
Awnings – you can have an awning – retractable or permanent installed that will extend from the house. This option hinges on how close your pool is to your house.
Pergolas and gazebos – these permanent structures offer shaded areas and are typically large enough to accommodate outdoor furniture, chaise lounges and even outdoor kitchen set ups
Umbrellas – these movable shade providers come in a variety of shapes, styles and colors and can be easily moved from location to location and even if you decide to plant one semi-permanently, they typically move, spin and bend to offer shade in different areas
There are many ways to add shade to your backyard pool area and talking with your pool contractor is the first step in coming up with a landscaping plan.