Choosing a pool design, Seahorse Pools, Inc. pool contractors offer tips 
Decisions. Decisions. There are many of them that you will have to make when you are going to become a swimming pool owner. One of the biggest will be (well, after you have your budget in place) is choosing a pool design. There are many more designs available than the traditional rectangle or kidney-shaped pools. Work the your swimming pool contractor from Seahorse Pools and Spas to determine a pool design.
Here are things to keep in mind when designing your pool: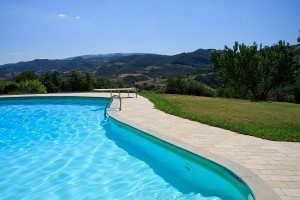 Do you have space available or will you need to re-landscape, grade or remove trees?
The shape of the pool hinges on the building material you choose
Your budget may determine the pool design
The number of people who will use your pool may help determine the pool design
You will need to choose a building material: concrete, fiberglass or vinyl liner. Each material comes with its own pros and cons.
Whether you have a beach entry will add to the size of the pool
Whether you want a deep end and a shallow end will help determine the design
Whether you will have a diving board will mean you need a specific depth
Will you have accessories like a rock waterfall, fountain or sun shelves?
Do you want to have a hot tub as part of the project
Choosing a pool design
Where to find design inspiration?
Magazines
The internet
Friends
Neighbors
Movies
The pool design book your contractor has
Have fun when choosing your swimming pool design. Also, ask your pool contractor if he provides a "bird's eye view" of the completed project — this view will help determine whether you like the finished placement.