Seahorse Pools & Spas discuss concrete pool benefits
Installing a swimming pool at your home is a project that more and more people are undertaking. The reason is, it's a great way to rest and relax in your own home, a pool could add to the memories you and your family make and they are more affordable now than they were in the past.
When you're in the mindset of "should we become swimming pool owners?" you will want to talk with the swimming pool contractors from Seahorse Pools & Spas about your options. In this article we will talk about the benefits of a concrete swimming pool. Be aware, though that there are other building materials from which to choose, including fiberglass and vinyl liner pools.
The benefits of a concrete swimming pools are: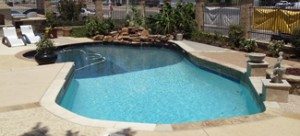 You can get unique pool shapes. With concrete, versatility is the main draw for many potential swimming pool owners. Concrete pools can be shaped in almost any design you can imagine and are ideal for yards with curving designs and when the homeowner may not want to cause upheaval to the entire landscape.
With concrete it can be designed to fit any available space. Whether you have a long, narrow area or a sweeping expanse of yard in which to construct the pool.
Concrete pools are able to be customized with deep and shallow ends and through the inclusion of water features and accessories. With concrete you can also work with your pool contractor to add various colors and even mosiac tiles.  Water features such as a stunning rock waterfall adds an elegance and a "wow" factor to the overall design.
Concrete swimming pools are one of the most expensive construction options, but they are long lasting, can add value to your home and are typically considered a one-time investment. Talk with us if you're trying to decide which type of pool construction material is best for your family.